\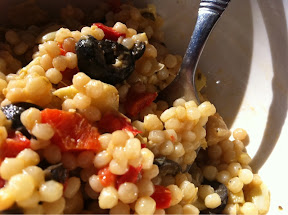 Brian and I threw this pearl couscous salad together for an infomercial tomorrow. Super easy and super delish.
Ingredients:
1 pkg Pearl/Israeli couscous
1/2 cup chopped marinated artichoke hearts
1 marinated red pepper chopped
1 can garbanzo beans
1/2 cup sliced black olives
1/4 cup Trader Joes Goddess dressing
Splash of white balsamic vinegar
Salt and pepper to taste.
In a pan melt a tbsp of butter or earthbound. Toast the dry couscous until lightly golden. Add water and boil until tender and water is absorbed.
Toss all together and serve warm or cold. Enjoy!!
- Posted from Craftlandia