\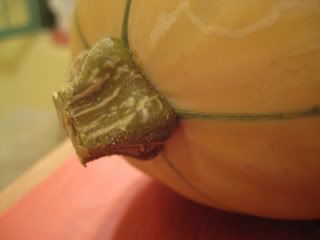 It finally decided to be Fall in Los Angeles. Yesterday the dark clouds hovered over the studio where I work, self-indulgently gloomy. This weekend was full of sadness as I went through a painful breakup. Bring on the comfort food! I am so happy that it's Butternut Squash Week so that I can dive into cooking and heal my heart with some deliciously healthy squash soups, casseroles and whatever I can think up. I'm excited about this week's possibilities. Enough of the bummer, let's just get down to it!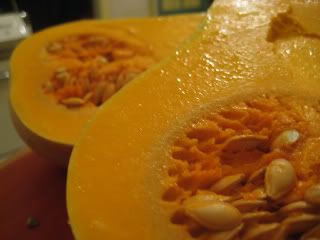 Ingredients:
Big ol' B'nut Squash
1 white onion
1 zucchini
1 pear
1 cup barley
1 cup pearl couscous
Vegetable stock
Earthbound or Butter
optional- cooked seasoned ground turkey, McCormick's Chipotle Rub
Preheat the oven to 400.
Cut the squash in half. Good luck with that. I did a terrible job. I thought that I was cutting it in half and quickly saw it was going at an angle and had to readjust my cut. Scoop out the guts.

Spread butter on each half and sprinkle salt, pepper and chipotle rub. As you can see in the pictures, I put the butter on after but when my roommate baked hers last week it came out better having been buttered first.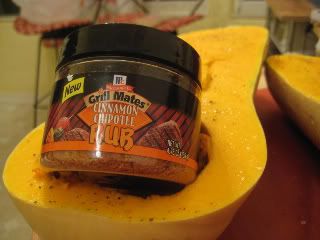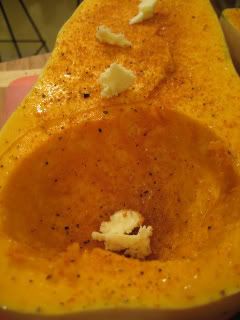 Put them on a cookie sheet and put those babies in the oven. Bake for about an hour or until it's tender. Mine took maybe 1 1/2 hours.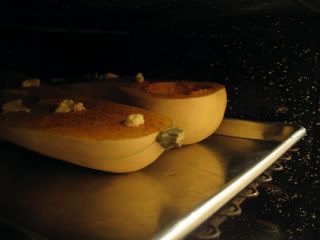 Chop up your onion, zucchini and pear. The pear was inspired by some soup recipes that I read while researching this week. I figured the sweetness would be a nice touch. I would also add garlic, I forgot and think it would make a nice addition.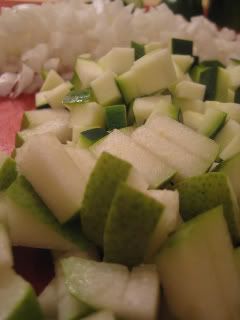 Melt some butter and saute your veggies till the onions are getting translucent. At this point I added the barley and couscous but I think that reserving the veggies in a bowl to add later would be better.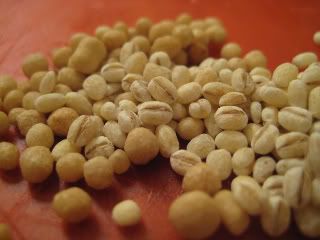 Toast the barley and couscous in the pot and then slowly add your vegetable stock. It's just like making a risotto with rice, you add the stock and the grains will give up that starch to become chewy and delicious. A quick word about
barley
. Barley is rich with fiber and selenium, zinc and vitamin B6. Fiber is great for your digestion and can lower cholesterol and selenium protects us against free radicals and has been linked to slowing or preventing tumor growth. Hurray for barley!
OK. Keep adding vegetable stock to the grains, stirring constantly. The liquid will begin to get cloudy and creamy. I added some bay leaves and thyme leaves at this point for some extra flavor. You can also use the McCormick's French Herb rub I raved about earlier. I also got impatient and added a ton of the stock, but it was all absorbed. Add your veggies back to the pot once the barley starts to get tender.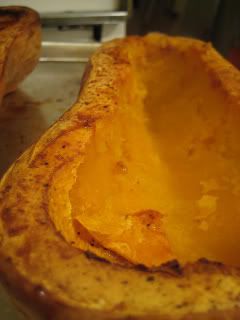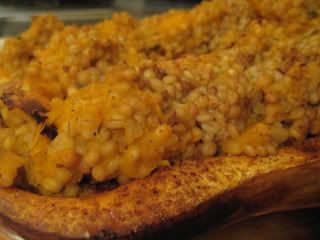 Once the squash is tender pull it out of the oven and scoop out the squash to create a bowl. Add the removed squash to your risotto. If you aren't vegetarian add some cooked ground turkey or even turkey sausage, a great way to extend the stuffing if you were serving a larger crowd. Put the stuffed squash back into the oven and cook till it's a little crusty. I cut them in half and it was a filling meal.

Notes: I added some extra salt to taste to the risotto once it was done. It's up to you. What I love about this recipe is that you can reinvent it based on what you have around, add mushrooms, wine, or Parmesan, use quinoa or wild rice, or turn the whole thing into a casserole.

Enjoy!