\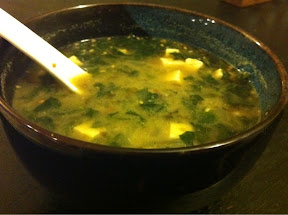 Tonight's winter supper offering is simple and yet not. Rich miso broth and lots of nutritious spinach with tummy filling tofu served over brown rice.
I used a brown rice miso paste, roughly 2 tb paste for 2 cup of water, with about two tablespoons of finely choped onion. Simmer and use a whisk to break up miso into water. Add frozen or fresh spinach and half a sheet of nori (the paper for sushi) and continue to simmer. Add a dash of soy and chili garlic paste depending on your salt and heat preference. Then finally toss in a cup of small cubes of tofu, I used firm tofu but the roommate uses medium. Cook until tofu is hot and spoon over brown rice.
Feel free to sub the rice with noodles and add zucchini or broccoli.
I think this will be my new winter staple. It only took about 10min total!