\
I finally got my act together at work enough to take some pictures of a quinoa I've made for the crew on a Food Network show. Most of the crew hadn't had quinoa before and after a few days of different quinoa concoctions they are really getting to love it. Today's is a warm quinoa with some sun-dried tomato Tofurkey sausage I found in the fridge. Instead of my usual vinaigrette I went with a splash of marinara.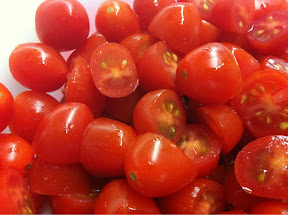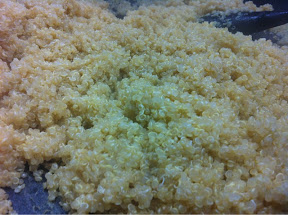 Ingredients
1 package of quinoa cooked
1 package of grape tomatoes halved.
3 tofurkey sun-dried tomato sausages chopped
1 white onion chopped
3/4 cup marinara
Sauté the onion in olive oil. Add Italian seasoning. Then throw in the sausage. Cook until sausage is hot. Add cooked quinoa, tomatoes and sauce. Once it's all mixed and hot, salt and pepper to taste.
If I had basil it would have been a good addition.
So far they are enjoying this one.
Till the next time, I'm keepin it crafty on set.