\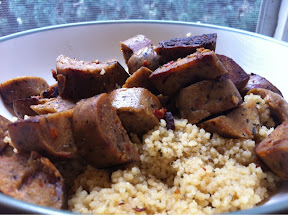 As the family hippie vegetarian, I find that too often meal time can be, "Oo Andy we made a delicious beef stew for dinner" and "How's pizza sound for everybody?" Stomach groaning, it can start to send me into a slight panic. I love to eat and love cooking almost more. Lucky for me my sister-in-law has a gorgeous pantry.
As soon as I get into town I head straight to Trader Joes. On this occasion I picked up Tofurkey sun-dried tomato sausages. They are a consistently delicious alternative to meat. In the pantry here I found a box of Casbah Roasted Garlic couscous. Score!!! I chopped up and sautéed the 'sausage'. Served over the warm couscous it made for a dairy free vegetarian feast for three.
Even better, the leftovers will go great with my Trader Joe's frozen falafel tomorrow.
- Posted from the ether